A dancer's bag is like a lady's purse. Stuffed to the gills and oh-so-mysterious. What's in there, anyway? We've found some brave souls willing to share it all with us and we'll be bringing it here the first Saturday of every month.
Whose bag are we snooping in?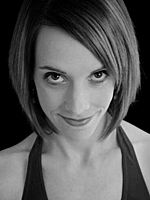 This months dancer is Gina Eslinger.
Gina is a company member with
Ballet Ariel
in Denver, Colorado. Before joining Ballet Ariel, Gina spent two seasons with David Taylor Dance Theatre. Gina has had the opportunity to perform works by August Bournonville, David Taylor, Gregory Dawson, Ilena Norton, James Wallace, and Gregory Gonzales. She has been featured as a soloist in
Napoli
, Sugar Plum, Snow Queen, Dewdrop and Arabian in
Nutcracker
, Sacred 36 in
Avoca: A Tale of Molly Brown
, Fairy of Joy in
Sleeping Beauty
, the Bird in
Peter and the Wolf
, Greg Gonzales'
Polar Equals
, and Tom Ruud's
Mobile
. Gina's other passions include singing, teaching dance, training in lindy hop, and performing in various theater/musical theater performances in the Denver-Metro area. Recently, Gina was featured in Performance Now Theatre Company's
Oklahoma!
as Dream Laurey and in Music Man as
Zaneeta Shinn
.
What's in the bag?
Top row: Various skirts and shorts (I always have at least three colors to choose from) and my favorite gray knit shorts (and black belt to keep them from falling down). Lip gloss (lower right on top of shorts). Three pairs of pointe shoes with tupperware of spacers/gel big toe caps with baby powder to apply after wearing them. At least three pairs of different leg warmers, wool socks.
Lower row: Foot roller, pouch of bobby pins/hair ties/etc, Orajel (for really bad toenail pain/bruises), Arnicare gel, Advil, Biofreeze roller, tennis ball and spiky massage ball for rolling out cramps in muscles, heavy thera-band, two different thicknesses of toe pads (when feet are swollen, I use thinner ones ), Kleenex, contact lens drops, technique shoes.
What's the one thing you just can't live without?
My favorite item is still big toe gel caps, then knit shorts/legwarmers.
So, dancers...how crazy is your bag?