There's a reason some dance studios have very specific uniforms, right down to the style and shade of tights. When you're new to dance, the options for dance gear can be completely overwhelming!
Here's a breakdown to help you out...
Leotards
Leotards are the easiest part. Your studio will tell you what kind of sleeve they want (short, long, tank top, etc) and what color. Simple is better when you have a young dancer. Skirts and sparkles can be very distracting (and some studios do not allow them.) The most important thing to know is that panties are NOT worn under a dance leotard. Nothing looks quite as strange as My Little Pony undies hanging out the sides of a leotard. They can't be worn on stage, and you will never see an older dancer sporting panty-lines in their leo.
Tights
To start, dance tights are not the same as the tights you wear under a dress. They don't have the line around the top of the thigh, are generally thicker, and will wear better than dress tights. There are several styles of tights available for dance.
Seamed Convertible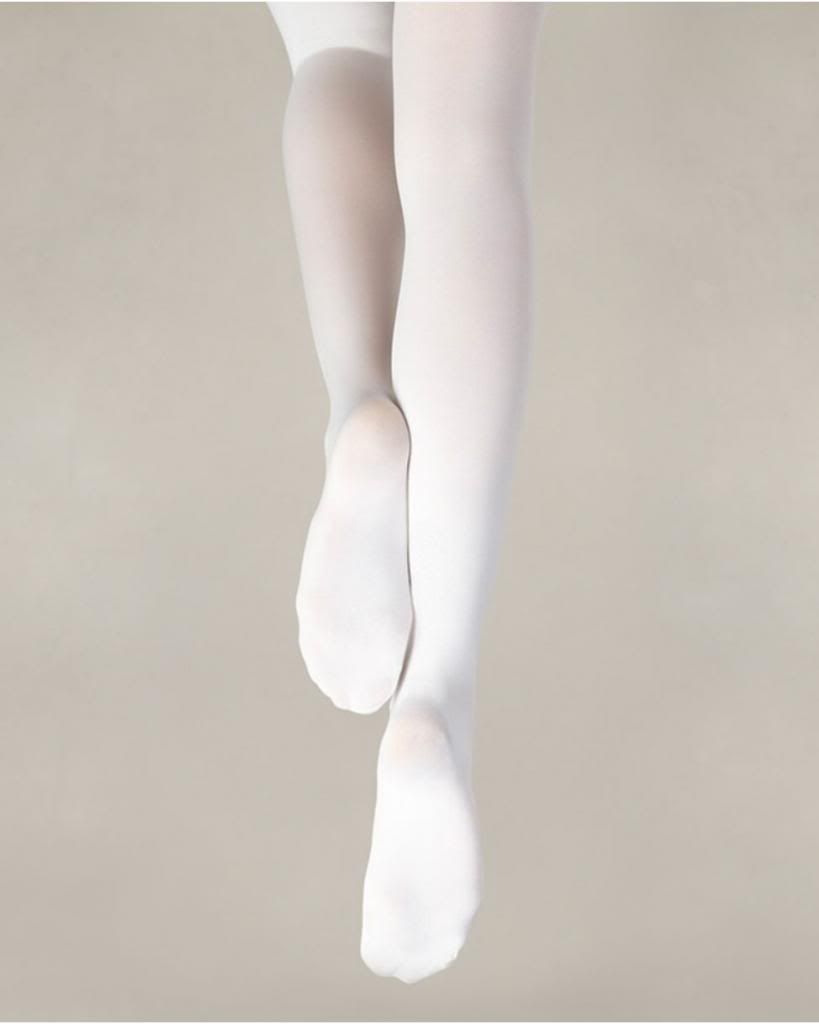 Full Footed
Convertible
Full footed tights
have a closed toe and a smooth foot. This is generally what very young dancers wear for class.
Convertible tights
have an opening on the bottom of the foot. This allows older dancers access to their feet when it's time to prepare for pointe class. They're also handy after class for dancers who like to wear flip flops. Most kids over about age 9 or 10 choose these.
Seamed tights
have a seam down the center back of each leg. They come in footed or convertible. Seamed or seamless? That decision comes down to dancer or instructor preference. Most older dancers prefer seamed tights for the traditional look.
**Veteran Mom Tip** When you're shopping for tights, watch out for the word "mesh" in the description. Some mesh tights will get looser and looser as they wear them, until they have "saggy elephant ankles." Microfiber tends to fit better, and is a good choice for little dancers.
Shoes
There are several styles of ballet slippers and soles. Shoes are the most important piece of gear you will purchase. If you're going to save money on ballet gear, don't do it here. Your dancer's feet are worth it.
Let me first say that these are not suitable for class.
I know they are sold as "ballet slippers" but they are really dress-up shoes. The slippery satin fabric and loose fit makes these shoes unsafe for class use.
Split-sole canvas slippers
Full-sole leather slippers


Ballet slippers are generally made of leather or canvas and have a full-sole or split-sole.
Leather shoes
form to the foot well, look nice on stage, and are sturdy and stable for little dancers.
Canvas shoes
are sometimes worn by older dancers for classes only. They breathe well and are less expensive for dancers who are in class up to six days a week.
Full-Sole
shoes
have a leather outer sole that goes all the way from toe to heal in one piece. Most teachers will prefer a full-sole, leather shoe for a young new dancer.
Split-Sole shoes
have a two piece sole that covers the ball of the foot and the heal separately. They flex better in the arch of the foot and are generally the shoe of choice for dancers older than 8 or 9.
**Veteran Mom Tip**
Go to a real dance store to buy your shoes. The price is the same as the big box stores, but the quality and fit of the shoes is FAR superior.
Veteran dance moms, what do you wish you had known when you started?
What about my young male ballet dancer?
Stay tuned, we'll have a break down on boy gear coming up soon!